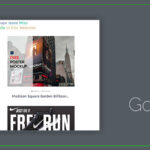 Free Goods Of The Week – July 24
July 24, 2023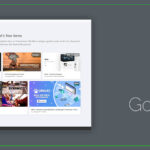 Free Goods Of The Week – Aug. 07
August 8, 2023
Valuable Tips | Interesting Articles This Week
Tips from Top Social Media Managers to Grow Your Online Business
Getting 50 leads in a month, over 1,000 followers in a week, and 100,000 impressions in a month. You've probably seen social media marketers boasting these kinds of results on Instagram. But how do they do it? Their strategies can help you grow your online business to unimaginable heights. In this blog, I uncover unique tips from top social media managers who've revived defunct accounts and incre
Meta brings cartoon avatars to video calls on Instagram and Messenger
Don't want to show your face in a video call on Instagram or Messenger? Well, now you can use a cartoon avatar instead.
The Five Rules for B2B Branding Success: Unlocking the Power of Memory
Being able to attend LinkedIn's first B2B Marketing conference, B2Believe was a real privilege and amazing experience. Hearing from the wealth and depth of B2B marketing and business expertise that exists within LinkedIn was equally informative and inspiring. One of the presentations that really stuck with me was about the power of Memory for B2B branding. In the fast-paced world of B2B branding,
6 Steps Bloggers are Taking to Prepare for AI in Search [New Data]
Picture this: What if search engines could understand user intent, personalize search results, and even predict what users are looking for? How would that change the way we approach SEO and content creation? Well, prepare yourselves because artificial intelligence is making its way into the world of search. This means that the algorithm will change, and the strategies us marketers once used to ra
How to Rebrand as a Content Creator and Stay Relevant [Expert Tips]
When it comes to the term "rebrand," most people think of major company rebrands like Dunkin' or Lego . However, companies aren't the only entities that may find themselves in need of a change. Sometimes, content creators will need to rebrand, too, especially if the creator's interests have changed or the creator needs to keep up with the latest consumer trends or adhere to new platform guideline
Paid Media Fast Forward: Top Trends of 2023
SEO and content marketing aren't the only two landscapes set to see massive shifts in 2023 and beyond. SEM is going to change rapidly, too. If you're not on top of these fast-surging trends, you'll be left in the dust by your competitors—and the industry itself. Whether it's the impact of privacy expectations on ad targeting and delivery or the increased use of machine learning and AI to build ad
9 High-Intent Audiences That Boost Conversions on Facebook and Instagram
Want to reach warmer leads with your ads? Looking for ways to improve your audience targeting? In this article, you'll discover nine high-intent audience types to target with Facebook and Instagram ads so you can improve lead generation and conversion rates. Why Audience Intent Matters in Paid Social Campaigns Alignment between campaign objectives and audience […] The post appeared first on Soci
How to Improve Facebook Ad Performance With Optimized Creative
Are you serving the right creative with your Facebook ads? Wondering how to align your ad creative with what's working right now? In this article, you'll learn how to optimize your Facebook ads creative for current trends. Why Facebook Ad Creatives Matter for Marketers It's easy to assume that creatives are just part of what […] The post appeared first on Social Media Examiner .
Twitter Tweaks Requirements for Creator Ad Revenue Share Program
…or 'X', whatever it is right now.
Instagram insights demystified: How to access and analyze your metrics
Optimizing your Instagram presence doesn't have to be a guessing game. You can find most of the answers you need within the app itself. Anyone with an Instagram Business account can use the network's in-app reporting feature, Instagram Insights. While it may not provide the same level of detail as an advanced Instagram analytics tool, it's still a valuable resource for conducting on-the-fly analy
Social CRM: How (and why) to manage customer relationships on social
Social media provides businesses with direct, real-time access to their customers. Each interaction tells a story that can be explored and learned from. But without a social CRM tool, that information stays isolated within marketing teams. The right social media management tool can unite teams around deep customer insights, cutting confusion and increasing collaboration. The 2023 State of Social
Stay Ai's tech helps Shopify brands get customers to make that second purchase
Customers abandon their online shopping carts all the time, and of those who sign on to subscribe to monthly product deliveries, some 17% end up canceling around the time the next payment is due. Serial e-commerce entrepreneurs Gina Perrelli, Pierson Krass, who co-founded e-commerce agency Lunar Solar Group, and Taylor Cawiezell started Stay Ai in 2021 (back then it was called Retextion) to help
Google's AI Red Team: the ethical hackers making AI safer
Today, we're publishing information on Google's AI Red Team for the first time.
Wayfair's AI tool can redraw your living room and sell you furniture
Wayfair has launched a free "virtual room restyler" called Decorify . It employs generative AI to show you a redecorated version of the room you want to zhuzh after you upload a picture of it and choose the visual style you want. Then, if you like what you see, you can pick from a grid of furniture recommendations presented to the right of your AI-remodeled room. Shrenik Sadalgi, R&D director at
The Generative AI Battle Has a Fundamental Flaw
Writers and artists want compensation from AI firms that they claim have trained their models on copyrighted works. But their legal fights miss the bigger issues.
Social Media Has Run Out of Fresh Ideas
From corporate rebrands to AI-powered video reels to text threads, social media companies are throwing everything at the wall to see what sticks.
EU passes law to blanket highways with fast EV chargers by 2025
The Council of the EU has adopted new rules intended to make it much easier for EV owners to travel across Europe, while simultaneously helping to reduce the output of harmful greenhouse gases. The new regulation is set to benefit owners of electric cars and vans in three ways: It reduces range anxiety by expanding the EV charging infrastructure along Europe's main highways, it makes payments "at
Nearby Share for Windows is now officially available
Nearby Share for Windows makes it easier to share files between Windows PCs and Android devices.
WhatsApp expands its Channels feature for broadcasting to seven more countries
WhatsApp has expanded its Channels features for broadcasts in seven more countries including Egypt, Chile, Malaysia, Morocco, Ukraine, Kenya, and Peru. The company made the announcement through a Tweet and a Threads post earlier today. hey friends in WhatsApp Channels is now rolling out for you. Find, share and follow Channels that interest you — WhatsApp (@WhatsApp) July 24, 2023 WhatsApp first
8 tips to boost your video conversion rate
Driving conversion through compelling video is a common goal in social media video marketing . Thanks to the OG TikTok, social media algorithms have prioritized video, especially short-form vertical video, like Reels and YouTube Shorts. Video content is a must for brand awareness and reach, but to continue justifying investments, teams need strong video conversion rates too. According to Sprout S
TikTok Adds Text-Based Posts to Expand Your Content Options
A new format to try out, which could help to grab attention in the app.
How to Research Your Competition With Google Ads Transparency Center
Wish you had more insight into your competitors? Want to see which YouTube audiences they're targeting and which creatives they're testing? In this article, you'll learn how to use the Google Ads Transparency Center to research the competition and gain a competitive edge. What Is the Google Ads Transparency Center and Why Does It Matter […] The post appeared first on Social Media Examiner .
7 SEO Basics You Need to Master: No Technical Experience Required
Are you struggling to master the SEO basics? If you are, there's no better time to get up to speed. Organic search makes up over 50% of overall traffic to company websites. It accounts for more than paid and social put together! What does that tell us? SEO is as relevant as ever. If you work in marketing, write a blog, or have your own business, it's vital that you at least know the basics of SEO
Reddit is taking control of large subreddits that are still protesting its API changes
Reddit is serious about ending the blackout API protests that have kneecapped the platform since last month. Most subreddits have since reopened amid threats from the company to remove protesting communities' mods. But, some have continued to stay private, locking visitors out and blocking users from posting. And Reddit is making good on those threats. Reddit has just booted the moderators at ??r
Email Signature Essentials: Key Statistics to Know for 2023
Email signatures serve as a powerful way for individuals and businesses to leave a lasting impression on their recipients. In this article, we will share valuable insights derived from the feedback of numerous participants and email signatures of thousands of users of the MySignature service in 2023. Keep reading to uncover the latest trends that will help you enhance your professional branding a
BIGLIST: 100+ Generative AI Tools For B2B Marketers
Where can B2B marketers find the latest and most relevant generative artificial intelligence (AI) tools in 2023? Generative AI has continued its run as 2023's centerpiece topic, as marketers in both B2C and B2B have grappled with how to best use the technology while maintaining — or growing — brand authenticity and trust. "AI has the potential to revolutionize every single part of marketing," Mar
Google Introduces Much-Needed Enhanced Google Photos Feature
Google is testing a radical new Google Photos interface
How to Become a LinkedIn Creator
The LinkedIn team , referred to as "unlikely champions of creativity" by the Creative Review , have turned their focus to creators in recent years. Features like Creator Mode and LinkedIn Top Voices have made the platform a destination for many looking to grow their personal and business brands. Creators like Justin Welsh have seen massive success by focusing on LinkedIn, gaining audiences in the
Threads adds a bunch of new features in first notable update
Threads had released its first significant update since bursting onto the scene at the start of this month as a rival to Twitter.
Twitter officially ditches the blue bird as it rebrands as X
Twitter CEO Linda Yaccarino has officially unveiled the new logo for Twitter, replacing the iconic bird logo that launched with the service in 2006.
Newsletters, as we know them, have been around for a really long time (even longer if you think back to pre-email times). They've also been a mainstay of the Internet since its inception. However, they have become a major content format among creators, partly due to their appeal to targeted interest groups and because email is the next best thing to social media for reaching audiences. It's not u…
Interesting Articles This Week