ABOUT Xtreme Freelance

What are you dreaming of today?
Some of our skills
WordPress90%

PHP85%

Photoshop80%

Illustrator70%

Joomla70%

Ecommerce65%

Internet Marketing70%

Email Marketing80%

Social Marketing85%

SEO65%

Design80%

Branding75%
We specialize in delivering
Everything our clients need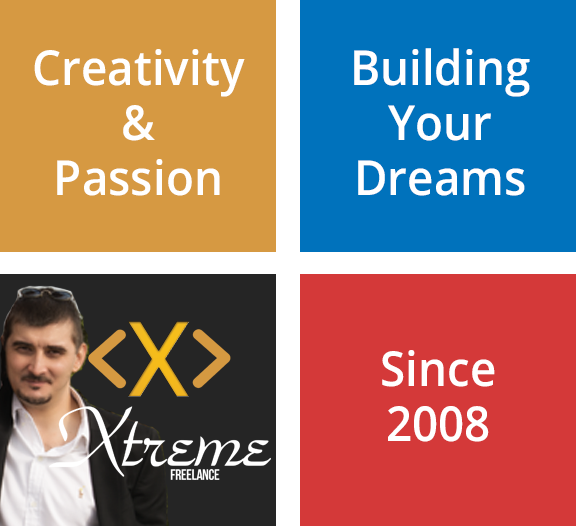 We are a team of freelance professionals with many years of experience
Our main business is web development - we offer branding, design, PHP, HTML, SEO, video production and promotional-marketing services. Our main expertise is WordPress CMS, with strong skills in PHP, HTML and other CMS's like Joomla and Magento. We are very experienced in providing internet marketers with a complete package catering to all their needs - hosting, keyword research, custom design and code if needed, SEO(on-page, off-page) marketing and promotion.
Xtreme Freelance was founded in 2008 and since we developed hundreds of custom blogs and websites, including complete businesses starting from idea. You will not find anywhere else a more complete offering for the money. We will fulfill any request in a timely manner once we accepted the job and you can be confident that we always deliver and over-deliver.
We cover all the relevant areas of expertise and we take pride in our work. Make sure to visit the other pages to see what we have to offer. For any other questions or if you're interested in a special project, Contact us.

CUSTOM


PROJECTS
E-MAIL Marketing