Easy Custom Design Blogs
September 13, 2010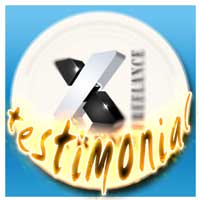 Another Video Testimonial
September 27, 2010
This post will cover the blog that has for now all the records – the longest projects, the hardest one to fnish, the most challenging, the most services done for a single blog and many more I can't think at now 🙂
John approached us first with several questions. he knew exactly what he wanted and his requirements posed a challenge that I decided to take. He asked me if we can comply to all his requirements and while many things he mentioned were not in our offer or in our Xtra services page, I was confident my team can handle all the challenges.
This being said, i must add the JohnJPCarroll.com is not a regular Xtreme Blog and we will only take orders for this type of blogs on a very special basis. Email us if interested.
The most demanding  job we had so far. We spent countless hours to meet John's demands not because of the money but to prove our team can handle a big difficult job. And I hope John's testimonials are a proof  about that.
Probably the biggest challenge we faced was to understand what John's wishes were. He had a good idea of what he wanted but maybe not always we had the best explanation of his image. That proofs how important is the communication part in any business. You  can check in the end gallery samples of our work in various stages.
Here is the full page view of his blog.  You can click on it for a full view.
The theme we used it's a professional theme designed with functionality and customization in mind. It's called Indomagz if you like it. It has tons of features and it's easy to customize as it provides 2 distinct layouts in the theme options, with every element being also customizable.
We always try to do the best to please our clients, so here it is a short overview of John's new custom blog:
Features:
Custom footer
Custom header – custom made header on John's specs
Autoresponder integrated in sidebar widget, video squeeze and pop-up, single page footer, comments, blog footer toolbar via Subscriber Magnet plugin
Twitter integration with sidebar widget and auto poster,  and Twitter suite plugin, social bookmarking buttons integrated
Content based on keywords researched Unique article wizard as extra content source Onlywire plugin with associated accounts-bookmarks automatically every post.  Automatic submission on 5 onlywire accounts
We have provided 10 keyworded unique articles, written by our writers, as well as other articles for support blogs and web 2.0 pages, more than 18 unique articles in total. All blog posts were submitted to another set of more than 80 social bookmarking sites/accounts as we promised in our offer. All of them were submitted on 3 different accounts – 240 total submissions

Extended custom theme features with options in admin area
Squidoo, Hubpages and additional blogs on web2 sites, loaded with unique articles on the same niche – personal development coach.
John provided a short Video teaser to help ew subscribers, we added it to the sidebar.
We made a few custom social networking and bookmarking widget . We have selected over 100 royalty photos that John can use in his posts and articles.
The theme makes use of all new feature in WordPress 3.0. It is very easy to add a new posts with images, even easier since we provided the Apture plugin. Also adding a featured image and the slider image is just a 2 clicks job.
You can check the  Xtreme Blogs System Offer page to see all the extra services we did as we really don't have the space to cover all our work. Of course we have our report done with all the vitals and various details describing the job performed.
On top of that we have doubled or tripled all submissions. The biggest job was to customize the major social account designs. Facebook, Twitter and Youtube have all been revamped with custom designs, backgrounds and dedicated images. View them in the gallery at a larger size.
We also used the best selection of plugins to date for his requirements. Affiliate links are added on some keywords and more can be added with a few clicks, blog wide.  This allows for easy changing of the programs promoted.  No more manual linking, and above that, the links are cloaked, meaning that search engines will perceive the links as regular links. We added WP incentive also – a paid plugin that will reward your readers that post comments, easy way to lure them to your list. Highly configurable also, can be used in many ways – host a comments contest anyone?
For advertising we have  several options- built in theme advertising and  banner ads plugins with several advertising areas.
As I mentioned we did this job mostly as a Xtreme Blogs complete service show-off. We do not provide these as a regular service yet due to the costs. Email us if interested.
A few more pics :