Video News Blog- Custom blog released
October 4, 2009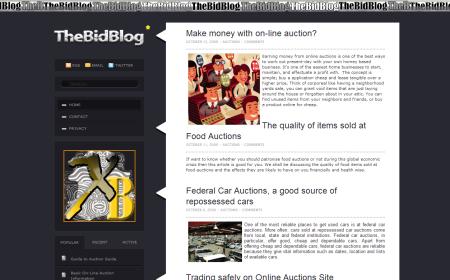 The Bid Blog – New Client Blog released
October 13, 2009
Thank you for visiting !
Our goal here is to provide our customers with completely customized blogs that will siut their needs and desires. Our offer is the best online at this point, so please take a look and tell us what would you like. At this point we are in Pre-Launch and we have only

7

6

more spots for orders this month, at discouted price for our first customers!
We can build affiliate marketing or internet marketing -focused blogs, or any other kind you want. You will get the best optimizations for SEO, monetization and all the other aspects

AND

we do the initial promotion – directory submission, RSS submission, social bookmarkings

AND

we throw in a  Squidoo lens and a Hubpage!
To order, start by visiting our detailed description page and write us an email at xtremefreelance@gmail.com. We will contact you to set up the details. If possible and you're ready, send us the general interest you want your blog   to focus on – e.g "search engine optimization -SEO" or "deep sea fishing" …, you get the point. We will establish details via email/chat.
Regards,
Clau T.