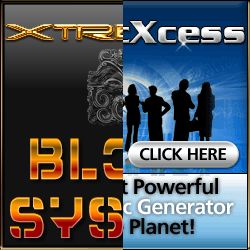 Traffic Xcess – get tons of prizes!
June 7, 2010
Calculators Blog – New niche custom blog
July 12, 2010
Time passes quick again and yet again I'm faikling behind with posting here:) This time I have a personal reason  as I was in the hospital for about 10 days so I hope I'm forgiven:)
We had a great month in June, plenty of customers and lots of side-orders.  We had in fact another sold out month.
You might have noticed we have now just a unique offer. Since we only had 1 or 2 regular orders compared to the huge number of former gold buyers,we decided this is the best way for everybody.  It is getting harder for us because of the amount of services and customer demands but we will probably increase our team soon. In that effect, if you're a skilled php-wordpress programmer  and you have  good SEO knowledge drop us an email!
Another point which i failed are the presentations. Several blogs were released and I will do my best to bring them to your attention soon. Also we will start a new service, selling blogs we have developed and some of our clients that no longer want/can maintain them. We will offer a great deal for those willing to jump straight away to the offer. Come back soon and check for a new "Blogs for sale" page.
And a final piece of small news, we have joined Rollution ,  a great little money-maker. For those willing to join on our link, we offer monthly credits at our mullti-submitter – double the value of your Rollution subscription.  You will get a custom promo video if you pay for 3 months. Here is the sample video: