WP List Mailer Holiday Promo!
December 19, 2013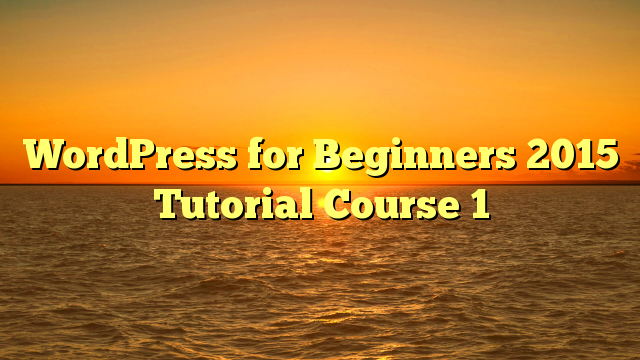 WordPress for Beginners 2015 Tutorial Course 1
January 6, 2015
Just a few years back WordPress was just one of the many CMS-s available and not so much different from the others. At that time it was nothing much to differentiate for those bold enough to go through the hops and use a CMS in their business. Like Joomla, Drupal, Magento and others WP was using a plugin system and was probably notable just for being less focused. While others were targeting specific markets – shops, business membership sites and so on, WP was more of Jack-of-all-trades. Probably this and a somewhat friendlier interface  is also the reason WP started to gain more traction into internet marketing businesses territory.
There is no question about it that during the past years WordPress has made more advances than any other CMS. A major part was played obviously by the community, the vast numbers of developers that started to build plugins, free or paid. Having that and the solid WordPress foundation gives us the possibility to build almost any kind of site, simple or complex, static or dynamic, blogs, community-driven memberships sites, custom-function and all in between. And we're just looking at the tip of the iceberg – a huge number of projects are in development and will help you shape, change and build a WP site in even more ways than we can think at now and most importantly even more easier.
Internet Marketers are some of the most driven online dwellers to experiment, adopt and promote innovation. Easy to see why, time being a valuable asset, any tool that can shave some from the daily routines, make it easier and automate tasks will be always very valuable for anyone. Even more so for busy marketers that struggle to start a business – there are so many things to learn and do that it is so very easy to get overwhelmed.
5 reasons why WordPress is great for marketers:
[ox_list type="ox_list_animated"]
Accessible – almost anyone can pick up WordPress and start a site in a matter of minutes. Plenty of training and help at all levels. Design is applied through themes, a huge number of both free and paid is available.
Versatile – from a simple one-page to mind-boggling complex sites, you can build almost anything with WP. Specifically designed themes for marketers are available – from sales pages, squeezes, coupon sites, ad sites and list goes on…
Affordable – starting from $0, if you really must you can have a web presence at no cost. Of course to really make use of WP you'll need a domain and your own hosting and adding the cost of a nice theme it shouldn't be out of budget for almost anyone.
Expandable – WordPress MS – former MU – stands for Multi Site – a few simple changes can transform your site in  a site network. You can control it from a central interface not much different from the regular one, it makes the transition not so taxing.
Customizable – no other CMS has so many plugins with so many functions. Chances are if you need something done there is already a plugin doing it!Adding to this the really big number of specifically designed themes and packages and it should make it possible to build your site the way you want it.
[/ox_list]
2014 is shaping up to be another great year for WP, there is no sign that the booming business with themes, plugins and special projects created around WordPress will slow down, so if you did not yet took the plunge you will surely find some incentives soon:)
At Xtreme Freelance, as a development business, we deals with all kind of stuff but WordPress has always been fun to work with so we used it in many of our projects. You can look around on our site and check some of our projects built using WP, if you think you could use our help, just contact us and we'll discuss your project.